By Dean Gallea
The NY State Association of Conservation Commissions (NYSACC) held its 50th Annual Conference on the Environment from Thursday to Saturday, October 21-23, 2021.
NYSACC was created by the New York State Department of Environmental Conservation in 1971 to coordinate local government-led conservation and environmental programs and to encourage municipal governments throughout New York State to establish Conservation Advisory Commissions (CACs), Boards and Councils (like TEAC). These serve alongside zoning and planning boards, providing expert advisement to municipal officials on a range of matters concerning the natural and built environments. Web: http://nysacc.org
The Conference is an annual event, bringing together hundreds of mostly volunteer members of CACs across NY state to participate in workshops and panels on a plethora of environmental topics, led by State and local officials, experts, academics and others. It had been Westchester's turn to host the statewide Conference for 2020, but the pandemic put the kibosh on an in-person event, originally planned for a Mount Kisco venue. So, it was postponed to 2021 (NYSACC's 50th year!), and made into a "virtual conference," hosted on a fun, old-school 2-D computer-game-like platform called Gather Town, with personalized avatars for each attendee and a high degree of interactivity by voice, video, and chat. We engaged a design partner, ReuniVous, based in the U.K., to help design the conference venue. Here's an example of one area: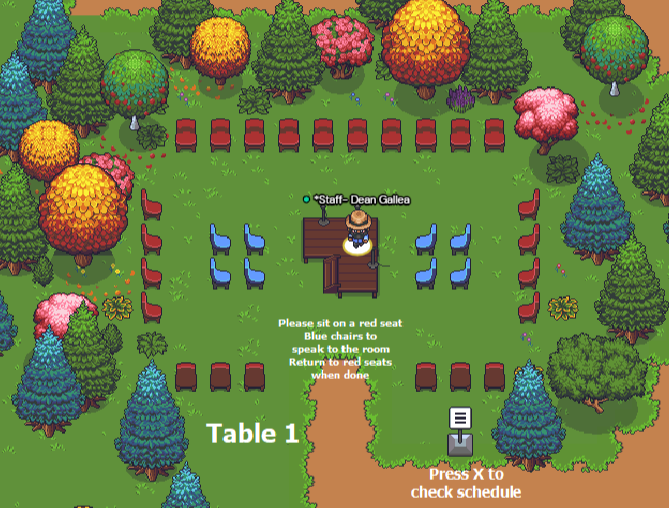 NYSACC's President, Simon Skolnick, recruited a group of about 15 stalwart members of various local CACs – including several of us from Tarrytown, as well as Croton, Irvington, Dobbs Ferry, Hastings-on-Hudson, Bedford, Pound Ridge and other county municipalities — to serve as the Conference planning committee. It was a ten-month-long effort, but we were all very happy with the successful result!
Our Conference had five general tracks: Land & Water (1 and 2), Environmental Justice, Greening Our Energy, and Waste Not, each with its own "room" named for a local water body. Within each track, we planned four Workshops, held in late-morning and early-afternoon slots on two successive days. For each Workshop, we recruited expert speakers from NY agencies like the DEC and NYSERDA, Westchester County officials, colleges and universities such as SUNY and Rutgers, environmental groups like Sustainable Westchester, Groundwork, FCWC, and NRDC, and many others.
Our opening speaker was NY Assemblyman Steve Otis, and our Keynote was DEC Commissioner Basil Seggos. The closing speaker was Rob Breen, from the DEC Office of Climate Change and Anam Earth Center for Sustainability and Culture, who gave an emotion-filled talk entitled "Gloom and Bloom – the Climate Change Story of Grief and Hope."
Prior to the workshops were over 20 "Breakfast Table Topics," hour-long expertly-facilitated discussions on a huge variety of environmental subjects, held in a virtual "Garden" area. The full schedule is on the Conference website, http://www.nysacc.net. (Thanks go to Haven Colgate of Hastings for creating our amazing site!)
Alongside the Workshops and Topics, we had an "Exhibition Room" with virtual information tables for many CACs, non-profits, and others. The major conference Sponsors with larger exhibit areas were Dandelion Geothermal and Terracycle. There was a Lobby connecting all the areas, a Lounge – with a virtual "bar" – for informal discussions, and even a Resource Library with viewable or downloadable information from the various CACs and presenters.
Prior to the Conference, on Thursday evening, we hosted a Legislative Roundtable with three NYS Assembly members and Senator Peter Harckham. We squeezed in a lunchtime film, The Sacrifice Zone, on Friday. And on Sunday, there was an in-person "field trip" to three sites of environmental interest at the Yonkers waterfront: The Beczak Center for the Urban River, The Science Barge, and the park along the recently-daylighted section of the Bronx River. A stop at the Yonkers Brewery was on the agenda as well!
The free conference had over 400 attendees registered. Since people could come and go at any time, we don't know how many actually attended, though the count exceeded 150 as some points. From attendee comments and the presenters' feedback through the very active Q&A periods, we all believe the Conference was a great success! The information given, resources shared and contacts made will go far towards furthering the important work in which we are all engaged.
Go to NYSACC.net for more information. Links to recorded sessions are HERE.