NEWS OF THE MONTH FROM THE TARRYTOWN ENVIRONMENTAL ADVISORY COUNCIL
FEBRUARY 2022
WHAT WE'RE TALKING ABOUT
_____________________
We're diving into the planning phase of Earth Day events and, once again, we're celebrating Earth Day all month in April. Check out our line-up of environmental films, showing once a month at the Warner Library (our first film is a virtual "watch party" event). Beware of those big tracks in the snow: just because it's winter doesn't mean bears are asleep! Oh, and join our online meeting Thursday evening, February 3 at 7:00! Details are below.

LOVE YOUR VILLAGE
PARTICIPATING IN TEAC IS EASY… JUST COME TO A MEETING!
The Tarrytown Environmental Advisory Council (TEAC) relies on volunteers to keep things moving. We're a fun and engaging group of like-minded citizens working to make Tarrytown's air, land, lakes and river healthier and cleaner.
Our next meeting will be held via Zoom, Thursday, February 3, at 7pm.
If any of our committee topics interest you, or you just want to learn more about what we do, please feel free to join us!
Zoom Link: Click Here!
LEAVING FOSSIL FUEL BEHIND:
ELECTRIC SCHOOL BUSES TO ROLL OUT FOR WESTCHESTER 
By Dean Gallea

Photo: School Transportation News
Westchester County Executive George Latimer, the County's Office of Energy and Sustainability, and the Westchester chapters of Mothers Out Front co-hosted an electric school bus forum on January 27.
Panelists shared resources to help schools transition off fossil fuel-powered buses to zero emission electric fleets.
County Executive Latimer said: "My Administration has made it our priority to not only focus on what green initiatives we can immediately control on the County level, but to also work with key local stakeholders to provide information, know-how and support to other leaders in Westchester so they can take the same steps. We only have one planet and it will take collective actions to save it."
In addition to the County Executive, opening remarks were made by State Senator Pete Harckham and State Assemblyman Thomas Abinanti. Assemblyman Abinanti was instrumental in obtaining State grant funds for the first electric school bus for the Tarrytown/Sleepy Hollow schools, hopefully going into operation this year.
Mothers Out Front is a national, grassroots organization working toward a just transition from fossil fuels to renewable energy. The Westchester chapters have been advocating for electric school buses because of their environmental and health benefits.
Mothers Out Front Volunteer Megan Dyer said: "When our members learned that emissions from our school buses made up a quarter of the transportation greenhouse gas emissions in the U.S., we realized we could help mitigate the climate crisis for our kids. Transitioning to electric would make a massive positive impact for the climate, air quality, and school cost-savings."
Among the panelists were White Plains Superintendent Joseph Ricca and Transportation Supervisor Sergio Alfonso who discussed their district's electric bus pilot program. Croton-Harmon Assistant Superintendent Denise Harrington-Cohen shared that district's process to receive state funding. Discussing resources and incentives were: Northeast Regional Director of CALSTART Benjamin Mandel on behalf of NYSERDA's program; Director of e-Mobility and Engineering for New York Power Authority John Markowitz; and Director of e-Mobility and Demonstrations for Con Edison Raghusimha Sunhakara. Croton 100 Volunteer Leader Patty Buchanan shared a tool to calculate total cost of ownership.
For a recording of the event, visit https://www.mothersoutfront.org/lets-go-electric.
GET READY FOR…
EARTH DAY / EARTH MONTH 2022
______________________
By Jenny O'Connor

Throughout the month of April, we'll be working to spruce up our streets, swap clothing and housewares, plant trees/shrubs, get out in nature to explore and clean up, and so much more!
For our celebration to be a success, we need you or your organization to get involved! If you'd like to spearhead an event or participate in our planning activities, get in touch with us at info@tarrytownenvironmental.com or come to our next general TEAC meeting, this Thursday, February 3 at 7pm. (See Zoom login information above.)
WATCH AND TALK ABOUT IT:
TEAC'S FILM AND DISCUSSION SERIES
______________________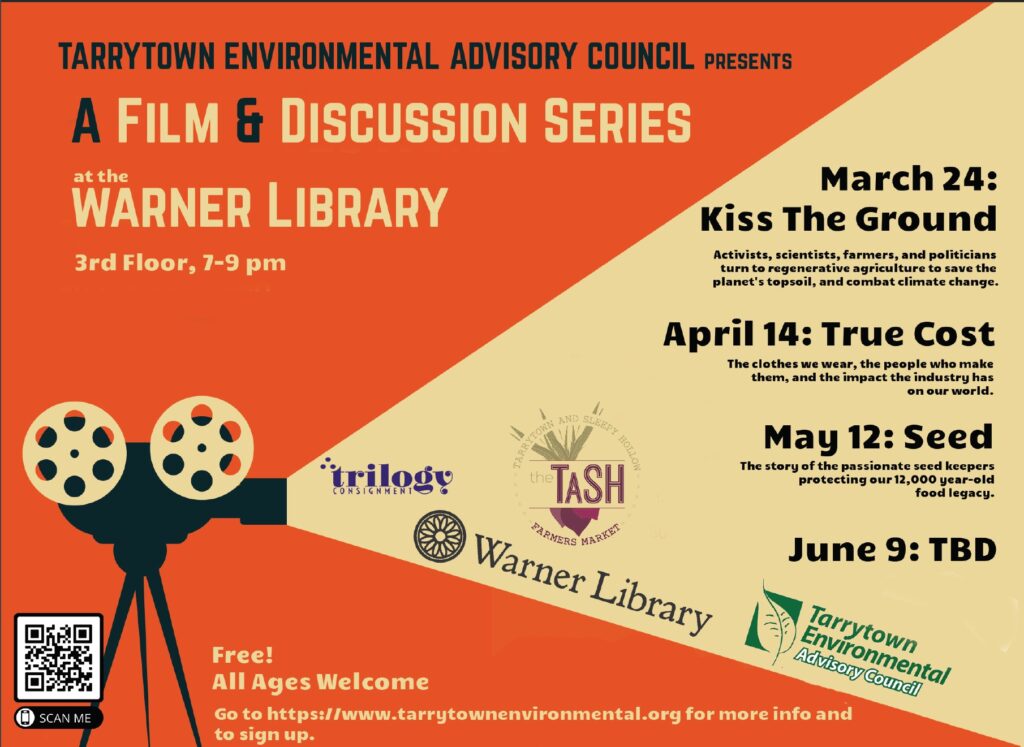 Tarrytown Environmental Advisory Council continues its film series on March 24, with an online showing of "Kiss the Ground".
The series will be shown "in person" at the Warner Library, on the 3rd Floor.
The movie will be shown at 7pm, and afterwards, TEAC will moderate a discussion.
TARRYTOWN WILDLIFE:
NATIVE SHRUBS FOR WILDLIFE: THE BEST YEAR-ROUND BIRD FEEDER
______________________
By Mai Mai Margules



Chickadee on native sumac. Photo National Audubon Society



Native Woody Plants Are Natural Feeders
For the past several days I have been frantically refilling my birdfeeders to ensure that the backyard birds have food during the storm and its aftermath. I also realize that to truly help birds and pollinators I need to plant more native shrubs.
For someone with a small yard and limited space for trees, native shrubs provide a crucial component in landscaping for birds and pollinators, giving food and habitat to wildlife year round.
If you want to beautify your landscape, cut back on maintenance and help birds and beneficial insects throughout the seasons, add native woody plants. Native shrubs are a natural part of our region's ecology and a far better choice than the non natives such as boxwood, privet and barberry, the latter two being highly invasive.
Many native shrubs are host plants for pollinators and the nursery for caterpillars which birds depend on to feed their young. Non native plants are not part of our local ecosystems and will not sustain native caterpillars.
Baby birds must be fed caterpillars to survive, they cannot eat seeds. It is thus imperative to plant native shrubs and trees along with native perennials to serve as hosts for caterpillars.
Native shrubs offer four season interest with flowers, fruit, wonderful fall color and sculptural interest. They attract an array of wildlife, providing year round sustenance, shelter and nesting.
Aim to plant small shrubs that retain their fruit throughout the winter into spring, the period of greatest food scarcity in the natural world. Plants such as American holly, highbush cranberry and staghorn sumac fall into this category. Their fruits aren't the first choice for wildlife so are usually available in winter as an emergency stash for hungry animals. Blackberries and raspberries provide summer fruit whereas dogwoods and spicebush have berries in the late summer and early fall, an important migratory period for birds.

Robin on Winterberry 
Native shrubs or cultivars?
Often when we go to our local garden centers looking for native plants, especially native shrubs, we encounter cultivars rather than straight species. Straight species are plants that have grown in an area for hundreds or thousands of years, are open pollinated and grow true to seed. Cultivars are often hybrids created by the nursery trade to have specific characteristics such as a shorter height, different colored leaves, new flower colors etc. that make them more attractive to home gardeners. These hybrids will have names in parenthesis after the genus and species label.
Straight species are always preferable, but if plant size is an issue a smaller cultivar may solve the problem. Doug Tallemay has been conducting research trials at the Mt. Cuba Center focused on comparing woody plant cultivars to straight species in their role of supporting native insects. Preliminary results showed that altering leaf color repelled pollinators but that changing plant habit, making them more compact did not affect pollinator feeding.  The more manipulated the cultivars became (different color, leaf and flower type) the less attractive they were to pollinators.  ( Piedmont Master Gardeners)
Neonic Free
Finally, in choosing your plants ask your nursery if the plant is free of neonic and other systemic pesticides, these are the pesticides that kill birds and bees.  Currently there is no legal or nursery industry standard definition or set of practices mandated for the use of terms such as "pollinator-friendly" or "bee-friendly" and we cannot assume that native plants are pesticide free. Ask for suppliers that use non chemical pest prevention, our requests can drive the market for plants that are safe for pollinators and us.
 Also the NY DEC is currently holding its annual tree and shrub sale. Seedlings are sold in quantity at very low prices (25 shrubs / sm trees for $25)  and will be delivered to a Westchester location in early spring for pick up. Here is the link to the Saratoga Tree Nursery for plant lists and info.
https://www.dec.ny.gov/animals/75799.html
 Below is a link links to great native shrub choices with bloom times from the Pollinator Pathway Northeast website:
https://www.pollinator-pathway.org/native-pollinator-plants
Here is a detailed list of native shrubs and trees specific to different habitat conditions from UMass Extension, very helpful!
  https://ag.umass.edu/landscape/fact-sheets/north-american-plants-for-new-england-gardens
T0 THE LAKES:
SKATERS' DELIGHT ON TARRYTOWN LAKES
______________________
By Catherine Ruhland



Evening pond hockey, Tarrytown Lakes
After patiently waiting for a few years, Tarrytowners were at last able to skate their hearts out at the Tarrytown Lakes.Continuous sub-freezing weather froze the upper lake's water to ice that met the 5-inch minimum required to open it up for ice skating on Sunday, January 16.
Skating continued the following weekend and most of last week. Several hundred skaters showed up and purchased the required skating permits from Parks and Recreation personnel stationed at the park.
A few recent days saw minimal snow fall which, however, required the Parks and Recreation Department to shovel in order to open the ice. A dedicated team of village employees spent four hours on Monday and Tuesday (1/24 and 1/25) pushing the snow off the ice. Sadly, with the almost 7 inches of snow that fell on Saturday, January 29, we will have to wait and see whether the ice will be opened for skating again. The ice hockey players and recreational skaters remain hopeful!
VEGAN RECIPE OF THE MONTH
Crispy Smashed Potatoes with Garlic Avocado Aoli
______________________
By Cari Newton 
is in the air! 
This Valentine's Day, we can show our love for the environment, animals, and our health by choosing tasty plant-based meals. Even small tokens of love like participating in Meatless Mondays or eating a vegan diet only on weekdays add up to make a big difference for our environment.
Every time we choose a plant-based meal, we are contributing to the efforts to stop global warming.
Eating no meat, or even less meat, is one of the greatest impacts we can make towards fighting climate change, and the earth will LOVE us for it!
Whether you're celebrate Valentine's Day, Galentine's Day or if you want to Treat Yo'Self, this month's vegan recipe: Crispy Smashed Potatoes with Garlic Avocado Aoli, from Oh She Glows is sure to impress!  I have been making this recipe for years and it's a family favorite. Check out ohsheglows.com for more tasty recipes!

Crispy Smashed Potatoes with Avocado Garlic Aoli
Ingredients
For the Potatoes:
2 to 2 1/2 pounds Yukon Gold potatoes (or try red or new potatoes)
2 to 3 tablespoons extra-virgin olive oil
Fine sea salt and freshly ground black pepper, for seasoning
Garlic powder or granules, for sprinkling on top
1/3 to 1/2 cup fresh parsley, minced
For the Aoli:
1 large avocado, halved and pitted
1 large or 2 small garlic cloves
1/2 tablespoon fresh lemon juice, or more to taste
1/4 cup soy-free Vegenaise (or vegan mayo of choice)
Fine sea salt and freshly ground black pepper, to taste
Directions
Add potatoes into a large pot and cover with water (do not peel the potatoes). Turn the heat to high. When the water starts to boil, reduce heat slightly, and simmer the potatoes uncovered for 20 to 25 minutes, until fork tender.
When there is about 10 minutes left of boiling the potatoes, begin preheating the oven to 450°F (230°C).
When the potatoes are fork tender, drain in a colander and cool for 5 minutes or so.
Place the potatoes on a large, lightly greased baking sheet. (Skip the parchment paper for this recipe, as an oiled baking sheet with produce crispier potatoes.) With the base of a mug or metal measuring cup, "smash" (press down on) each potato until each one is mostly flattened. Some potatoes might break apart a little, but this is totally fine!
Drizzle each potato with about 1 teaspoon of oil and sprinkle on a generous amount of salt and pepper. Finally, sprinkle on some garlic powder.
Roast the potatoes in the oven for 25 to 33 minutes until crispy, golden, and browned on the bottom. Keep an eye on them as cook time will vary depending on the size of your potatoes. I love to roast these until the skins become a deep golden brown and crispy—they are so delicious to eat!
Meanwhile, prepare the Avocado Garlic Aioli: Add garlic into food processor and process until minced. Now add the rest of the aioli ingredients and process until smooth, scraping down the bowl as needed.
Remove the potatoes from the oven and sprinkle each with chopped fresh parsley, more sea salt, and pepper. Serve immediately with avocado aioli (piped or dolloped on) and watch them go lightning fast!!
If you have any leftover potatoes, they can be reheated in an oven on a greased baking sheet at 400°F (200°C) for 6 to 12 minutes, until warmed throughout. The Avocado Garlic Aioli doesn't heat well (it tends to brown), so I don't recommend heating it, but serving fresh whenever possible.
REBATES AND INCENTIVES:
ENERGYSMART HOMES RIVERTOWNS
______________________

The Villages of Irvington, Tarrytown and Sleepy Hollow, alongside the Irvington Green Policy Task Force, Tarrytown Environmental Advisory Council and Sleepy Hollow Environmental Advisory Committee have partnered with Sustainable Westchester to bring EnergySmart Homes Rivertowns to our community.
With rebates and incentives available from NYSERDA and your utility, you have the opportunity to significantly reduce your home energy consumption, lower your energy bills, cut greenhouse gas emissions, and increase the year-round comfort and value of your home. Learn More HERE
TAKE A HIKE:
BEWARE THE BEARS OF WINTER
____________________________________
by Suzy Allman

Black bear in winter.
I used to believe that once the snow of December started to fly, the black bears that inhabit the woods west of the Hudson River would be deeply asleep in their dens, hibernating until spring and blissfully unaware of passing hikers.
I realized I was wrong the day I nearly ran into a young black bear, frolicking on a frozen pond in Waywayanda State Park, in New Jersey.
Even when the snow is thick on the ground, you can still see black bears, active and moving around in the forests of Harriman State Park and New Jersey parks, where an estimated 4,000 bears live.

Black bears don't enter into true hibernation. Instead, they "torpor", and for the bear — and hiker — there's a big difference.
According to Dave Chanda, director of the New Jersey Division of Fish and Wildlife, bears have a unique physiology that enables them to stay active all winter long if there's enough food for them. The torpor state means that while the bear's metabolism and heart rate slow down, it is aware of what's going on around it, unlike a true hibernator.
"If you're out in the woods, a lot of times people probably don't even know they disturbed a bear because there are many that just kind of nest right on the ground or they're in a blow-down of trees. They actually hear you coming, hiking through the woods, and they literally move out of that spot before you get anywhere near them," Chanda explained.
Next time you're hiking — especially in the bear-rich parks and watershed areas of New Jersey — keep your eyes open for these guys. If you see one, make lots of noise so the bear knows you're there, and can make his getaway.
And remember the plan should you surprise one, face to face, in the woods:
Don't turn your back and run; instead, stay calm and speak in an assertive voice.
Don't make direct eye contact. Bears may interpret this as a threat.
Make yourself look as big as possible by waving your arms or, better yet, if you have hiking poles, lift them high. If you are with someone else, stand close together with your arms raised above your heads.
Make sure you're not cornering the bear, but give him an escape route.
The bear may utter a series of huffs, make popping jaw sounds by snapping its jaws and swat the ground. These are warning signs that you are too close. Slowly back away, avoid direct eye contact and do not run.
If a bear stands on its hind legs or moves closer, it may be trying to get a better view or detect scents in the air. It is usually not a threatening behavior.
Black bears will sometimes "bluff charge" when cornered, threatened or attempting to steal food. Stand your ground, avoid direct eye contact, then slowly back away and do not run.
And your Number One rule: Please don't take selfies with the bears!
Did you know: Frozen water on the Hudson River has made it possible, for the first time in years, for ice yachts to set sail. You can see the ice yachts in person, on the river, by following the information on the Hudson River Ice Yacht Club page.
"I'd put my money on the sun and solar energy. What a source of power! I hope we don't have to wait until oil and coal run out before we tackle that."
– Thomas Edison, in conversation with Henry Ford and Harvy Firestone, 1931