NEWS OF THE MONTH FROM THE TARRYTOWN ENVIRONMENTAL ADVISORY COUNCIL
DECEMBER 2021
WHAT WE'RE TALKING ABOUT
_____________________
The holiday season brings Christmas trees indoors, but you don't have to chop one down. Get the facts on recycling and tree permits (you can't just chop them down, either!), then make a delicious vegan present to share. Oh, and join our online meeting Thursday evening, December 2 at 7:00! Details are below.

LOVE YOUR VILLAGE
PARTICIPATING IN TEAC IS EASY… JUST COME TO A MEETING!
The Tarrytown Environmental Advisory Council (TEAC) relies on volunteers to keep things moving. We're a fun and engaging group of like-minded citizens working to make Tarrytown's air, land, lakes and river healthier and cleaner.

Our next meeting will be held via Zoom tomorrow, Thursday, December 2, at 7pm.This month, we'll hear from some of our committees: Lakes, Landscaping, Energy and Conservation, and Zero Waste.If any of these committee topics interest you, or you just want to learn more about what we do, please feel free to join us!Zoom Link: CLICK HERE
TIPS TO STOP THE CYCLE:
WASTE WARRIORS!
______________________
By Catherine Ruhland
You may have noticed something different at the TASH (Tarrytown and Sleepy Hollow) Farmers Market in Patriots Park the last few weeks.
Since TASH vendors are now using compostable single-use packaging for ready-to-eat prepared food and beverages, there are now three disposal units at each waste station during the market.


The three units are for: compostables, recyclables, and trash.
Recyclables and trash (everything that cannot be reused, recycled, or composted) might be self explanatory. Compostables include discarded food, paper (napkins, tissues, cardboard food containers) and compostable plastics. Instead of using plastic made from petrochemicals and fossil fuels, compostable plastics are derived from renewable materials like corn, potato, and tapioca starches, cellulose, soy protein, and lactic acid.
Compostable plastics are non-toxic and decompose back into carbon dioxide, water, and biomass when composted and can be used for food and beverage containers as well as utensils and other items. These items should be clearly marked as "compostable" or say something like "this can be composted in industrial composting facilities." They are not meant for backyard composters, but they can be broken down in commercial composting facilities.  Tarrytown and other Westchester villages send our food scraps recycling to the Ulster County Resource Recovery Agency in Kingston NY. Learn More Here 
Removing the organic waste materials from the waste stream significantly reduces the volume and weight of the trash going to the landfill or waste-to-energy plant /incinerator, as we have in Westchester. Not only does the heavy wet food require excess energy to process, it can clog the system, making the whole operation less efficient.
But more importantly, by separating the food scraps and compostables, the organic waste material can be converted into compost, to be put back into the Earth to nourish the soil.  Of course, market goers are often not thinking in these terms, so TEAC has created a Zero Waste Committee with volunteer "Waste Warriors": folks who are trying to help Tarrytown reduce waste.
The market has ended for the season, but when it starts up again in May, check out the trash areas. You will find helpful Waste Warriors there to guide you through the new trash protocol. Please thank them for their efforts and if you would like to volunteer, send a quick note to us at TEAC at tarrytownenviro@gmail.com.
A Living Memory for the Holidays!
Image: A potted White Spruce is ready to celebrate the holidays with you!
by Cynthia Stegman
Believe it or not, you can enjoy the beauty of a Christmas tree all year long, year after year, while also helping the environment and adding value and interest to your yard. If you are thinking of starting a new holiday tradition with your loved ones, it might be time to try out a live tree for Christmas!
As we continue to realize the consequences of "throwaway culture" and single-use products, there is one tradition that seems to have stayed under the radar: the U.S. cuts down between 30-40 million trees for use as Christmas decorations each year that are enjoyed for a few weeks and then thrown away, only for families to repeat the process each holiday season. The traditional American Christmas tree is one that has had its roots cut off and is of the "use and throwaway" variety, and unfortunately these trees are often left to rot or end up in landfills, where they release previously-trapped carbon dioxide (CO2) back into the atmosphere. The only environmentally friendly way to dispose of a cut tree is to properly mulch and recycle it so that the captured CO2 is transferred safely to the soil via the tree splinters and sawdust, instead of being released into the air.
In contrast, a living Christmas tree with its roots intact will continue to absorb CO2 when you bring it home for the holidays, and will do so as long as it is alive. Buying a living tree for Christmas supports local tree farms (reputable farmers replace each tree with 1-3 new plantings!) and helps maintain a healthy, diverse landscape in addition to helping to fight climate change and clean our air. After the holiday season a living Christmas tree can be planted in the ground or a larger container each year, and can be reused again and again as holiday decor. When planted outdoors, your living Christmas tree can continue to be decorated for the holidays with outdoor lights, natural ornaments and environmentally friendly or edible garlands.
What's the catch with buying a Living Christmas tree?
A tree complete with roots is still a live tree, and will be conserving its strength during the cold season. In order to increase the odds of the tree surviving, these living trees can only be indoors for a week at the most, and must be slowly acclimated both into and out of the house, or they risk waking up mid-winter and stunting their growth or suffering shock in the unexpected temperature change.
Another limitation of live trees is size: the bigger and heavier the tree, the more difficult it will be to move around, and a bigger hole will need to be dug when it is time to plant it in the ground. Smaller live trees, up to about 3-4ft tall, are much more readily found and are usually in a plastic container, whereas taller living trees can be harder to find and usually have their root balls wrapped in burlap instead of a plastic container. All of the local nurseries listed below have a small selection of larger living trees, which can also be called "landscape" trees.
Lastly, living trees will cost more than cut "use and throwaway" trees: tabletop-sized specimens can cost anywhere from $10-$20, and live trees start their pricing at about $75 for a smaller, ~2-3ft tree in a container, but can be as high as $150 for a fuller tree or a specialty variety such as Dwarf Blue Spruce. Larger >5ft tall living "landscape" trees with burlap-wrapped roots are typically more expensive and range upwards from $200, and may require a truck or special transport to your home.
MUCH MORE TO READ – CLICK TO SEE FULL ARTICLE ON TEAC'S WEBSITE
MODERNIZE AND SAVE FUEL
WATCH OUR FREE WEBINAR – DEC 8!
______________________
MYTHBUSTING:
DO RECYCLABLES ACTUALLY GET RECYCLED IN WESTCHESTER COUNTY?
____________________________________
By Rachel Tieger
We have all read articles and heard new programs that our recycling is just ending up in the landfill or incinerator. Some of these reports may have been from NY Times, Forbes, NPR and other credible sources.
So the question is, what happens to our recyclables in Westchester and are they actually being recycled?
According to Louis Vetrone, the Deputy Waste Commissioner of Department of Facilities Management in Westchester County, the answer is "yes they are".
Mr. Vetrone submits that Westchester was able to survive China's Sword Policy by taking some of the following measures: Dual Stream Collection, Education Programs like Recycle Right NY, Maintaining Domestic Markets, Upgraded MRF Sorting and Recycling Enforcement.
The Daniel P. Thomas Material Recovery Facility (MRF) in Yonkers processed more than 140,000,000 pounds of recyclables collected by municipalities in 2019. Despite a worldwide recession that hit the recyclables market hard over the past few years, the sale of recyclable materials generated revenue of nearly $3,000,000.
Typically, the MRF is open to the public for tours but due to the pandemic, all tours have been suspended until further notice. See the below resources for more information about Recycling in Westchester County
Questions about recycling specific items can be directed to the Recycling Helpline at (914) 813-5425 or 211.

Recycling information is also available from Earth 911.
SHOPPING SUGGESTION
TaSH Holiday Market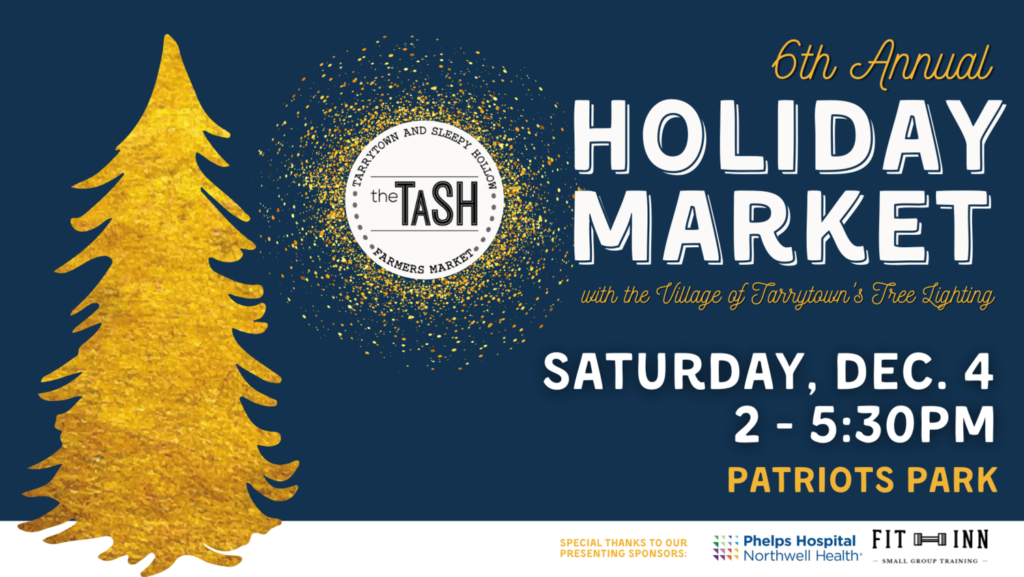 Tarrytown & Sleepy Hollow Winter Stroll
Washington Irving helped shape the celebration of Christmas as we know it now

.
Dec 4, 5:00 PM – 9:00 PM
Tarrytown, Main St, Tarrytown, NY 10591, USA

About the event: Kick off the Holiday season on December 4th with the first-ever Tarrytown and Sleepy Hollow Winter Stroll!  Extended shopping hours, outdoor dining, holiday treats, carolers, ugly sweater contest, live entertainment and other special events hosted by the Historical Society and local shopkeepers.
SAD NEWS:


POLLINATOR GARDENS DAMAGEDOn Sunday or Monday, Nov 14 or 15, and again the following Saturday, persons unknown tore out the beautiful perennial pollinator gardens that TEAC and the Village had collaborated on planting in front of the closed stores and the CVS on North Broadway. They looked like this shortly after planting in May:
And then, this happened:
This is an unfortunate blow to our Village pride. The TEAC volunteers and Village staff worked hard to plan, select, purchase and plant these lovely gardens, which would have bloomed year after year. That's not to mention the costs entailed. The Tarrytown Police are currently investigating what happened. If you witnessed anyone digging or pulling up these plants, please contact them. You are also welcome to contact TEAC at tarrytownenviro@gmail.com.
EATS, ROOTS, LEAVES:




VEGAN RECIPES OF THE MONTH


By Cari Newton
December has all the magical feels of the holidays from family traditions, warm sweaters, snow, cozy mugs of hot cocoa, and gifts! While I'll give you a great recipe below for gifting to others, consider the earth, your health, and the animals this holiday season and give the gift of going vegan. You don't have to go completely or perfectly plant-based to get on the "Nice List". Even small actions like participating in Meatless Mondays or only eating a vegan diet on weekdays add up to make a difference for our environment. Every time you choose a plant-based meal, know you are contributing to the greater good. If you want to make the biggest environmental impact, fully give up all animal products, but remember, every little bit helps!  If you are just starting out and you feel like you can use a little extra help figuring it all out, find yourself an experienced vegan that is willing to be your "mentor" to help answer any questions you may have. Their experience can provide the best product, recipe, and restaurant recommendations. Also, there are many online and social media resources for information, recipes, support groups, and even fun social groups where you can learn about the best restaurants and vegan products that are available in your area.  As always, your local library is a great place to try out new vegan cookbooks. The Warner Library in Tarrytown has a nice selection to choose from.
This month's recipe has been in my recipe collection for many years. These Samoa Balls are perfect for gift giving or make a batch to share at a holiday party. They are quick and easy to make with only 5 ingredients. Plus, they are so versatile, you can add other optional ingredients to change them up to what you have on hand or to provide a nice variety.
To make a perfect eco-friendly gift, you will need a clean jar & lid, a scrap of fabric that is larger than the lid, a rubber band and a piece of ribbon or twine to tie a bow around the lid.  Fill the Jar with Samoa balls, center the fabric on the lid an put the rubber band around it to hold it in place, tie on the ribbon to secure, and give one to all your friends!
Samoa Balls
Ingredients
Packed 1 cup of dates
¼ cup shredded coconut
1/8 tsp pure vanilla
¼ tsp salt
¼ cup chocolate chips
Directions
Put all the ingredients together in your food processor or blender and mix until blended and date pieces are small. Everything should still be a little chunky. Roll into balls. Garnish by rolling in extra shredded coconut. This will prevent them from sticking together. Chill them in the fridge to firm them up before you plate them for a party or fill a jar for a gift.
Now for the variations: you can add so many different things. Pecans, walnuts, cashews, other nuts of your choice, nut butters, hemp seeds, sea salt flakes, crisped rice, sunflower seeds, toasted coconut, dried cranberries, other dried fruits like raisins, cherries, figs, or apricots…  The possibilities are endless!
PRO TIP:  make a few batches, because these are so good, they will disappear fast!
NOTES FROM THE TARRYTOWN TREE COMMISSION: 
TREES IN A TARRYTOWN TAXI
By Martin Hauser, Co-Chair, Tree Commission
This conversation took place on the night of November 8th, 2021, at 9:15 PM:
TAXI DRIVER:  So, Martin, you had some kinda shindig tonight at the bar back there?
ME: Yup. A prized Village staff member is stepping up to a better job in Briarcliff Manor, so we gave him a going-away party.
TD: You work for the Village?
ME: Well, I sit on the Village Environmental Advisory Council and I chair the Village Tree Commission.
TD: Tree Commission! What does the Tree Commission do?
ME: We decide where trees should be planted on Village property and what kind of trees they should be. We always like to have suggestions from the public, too, about where trees might be planted. We also review the permit applications of people who want to take down a tree in their yard.
TD: Wait just a minute! You're telling me that if I want to cut down a tree in my yard, I have to get a permit to do that?
ME: That's right. If you take down a tree, or trim a tree, without a permit, you can get a hefty fine. If the tree is damaged or diseased or posing a danger to you or your neighbors there shouldn't be any problem. But if you want to take down a perfectly healthy tree, you're likely to run into problems with the Tree Commission.
TD. So if I buy a house, and it's my property, I can't cut down a tree without permission from the Village?
ME: That's right.
TD: Now why the hell is that?
ME: Lotta reasons. The one you might be most interested in is that it lowers your property value. Beautiful old trees add to the value of your property. If you cut them down, you're losing money on the resale value.
TD: Is that so? I never knew that.
ME: And it doesn't stop there. You're also lowering your neighbors' property values as well. People want a house that's surrounded by trees and greenery. A tree-lined street is a desirable neighborhood. The real estate people tell us that communities with a good tree cover have higher property values in general because they're more desirable places to live.
TD: Well, I'll be. I never knew that before.
ME: I might also mention the value to your health. Studies in England show that people who live in a place with lots of green around are healthier both mentally and physically. They say that green and growing things have a calming effect on your mind and body.
TD: That too?
TD: And you know from high school biology that trees breathe in carbon dioxide and breathe out oxygen, so we all need trees just to breathe.
TD: I remember that.
ME: But let's get back to money. Trees can also reduce your energy costs. Trees on the north, west and east sides of your house can shelter it from our bitter winter winds. Shady trees on the west and south sides of the house keep the summer sun from beating down on you, so you can save both on heating and on air-conditioning costs.
TD: I would never have figured that out in a million years.
ME: In fact, trees benefit the whole community that way. A good tree cover can lower the summer temperatures in the community by eight or ten degrees.
TD: Wow.
ME: Also, trees provide a home for birds and for the little critters that birds eat, so we need trees. Biologists say that we could lose 80% of our birds by the turn of the century. Who wants their grandchildren growing up with no birds singing in the morning, without watching the birds building their nests and hatching their offspring. What kind of a world would that be?
TD: No, I wouldn't want that.
ME: Well, here we are. Thanks, Jimmy. Keep the change. Be seeing you soon, no doubt.
TD: Thanks! Night, Martin.
"I'd put my money on the sun and solar energy. What a source of power! I hope we don't have to wait until oil and coal run out before we tackle that."
– Thomas Edison, in conversation with Henry Ford and Harvy Firestone, 1931
Copyright © 2021 Tarrytown Environmental Advisory Council, All rights reserved.